ALDUB PHENOMENON STRIKES AGAIN.
Maine & Alden in concert: Reaksyon ng may HD kay Alden Richards habang kasama si Maine sa stage Who is Aldub Nation? Simple, it is me and you with a true blooded Aldub, who is not half-hearted, who is not deceitful and who is not controlled by whomsoever and by whatsoever. A simple mortal that rejoices with Aldub's triumphs and honor, that cries and sympathizes with Aldub's heart-breaking defeats. A pure and genuine being that simply loves Aldub from the facade of our life to the deepest part of our hearts, endlessly.
3 Most Expensive Mobile Phones in the World
Phone is a major requirement of our daily lives. Mobile phone or even has the prices vary widely ranging from the cheapest phones in the world up to the most expensive mobile phone in the world. In today's society, there aren't many things that people are more attached to than their mobile phones. A person's cell phone is his gateway into everything that goes on in his life. With the recent advances in technology, it now seems as if your cell phone can do everything that your computer can do. It then comes as no surprise that your cell phone could cost as much as it does. If you're in the market for a phone that will do nearly everything, then you should expect to pay a lot of money.
3. iPhone 3G King's Button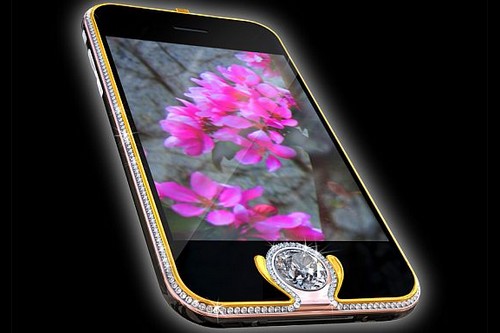 For the third most expensive mobile phone in the world is still occupied by a variant of the iPhone, named King's Button iPhone 3G. The renowned jeweler from Austria Peter Aloisson is the creater of this phone. 138 diamonds are installed on this phone that makes it worth $2.4 million. The beautiful white diamon of 6.6 carats serves as the home screen button which enhances the beauty of this phone.
2. Supreme Goldstriker iPhone 3G 32GB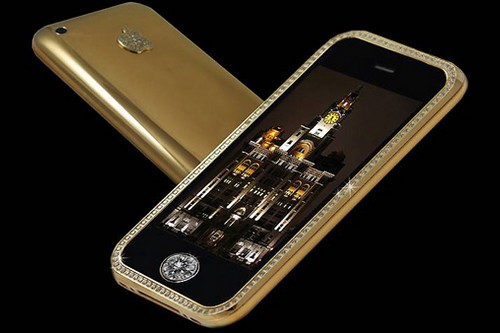 For the second most expensive mobile phone in the world, a variant of the iPhone from Apple, the Supreme iPhone 3G is priced at $ 3,200,000. The iPhone 3GS Supreme features a casing made from 271 grams of solid 22k gold and a screen trimmed with fifty-three 1-carat diamonds. The home button is covered with a single rare 7.1-carat diamond. That's not all, though—the iPhone 3GS Supreme comes in a chest carved from a single block of granite and sports Kashmir gold and an interior lining made with nubuck top-grain leather.
1. Diamond Rose iPhone 4 32GB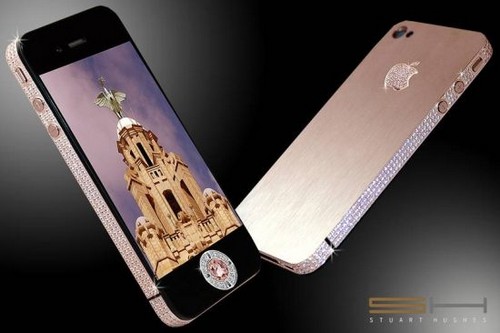 The world's most expensive iPhone to date is the 32 GB iPhone 4 Diamond Rose by Stuart Hughes. With a price of about $8 million the phone's bezel is made of rose and approximately 500 individual flawless diamonds that total over 100ct. The back is also rose gold and features the Apple logo all decked out with 53 additional diamonds, while the front navigation button is platinum with interchangeable single cut 7.4ct pink or rare 8ct Flawless diamonds in the center.